Grand Millésime 2011 Pécharmant Chateau de Tiregand, Bergerac. A typical Pécharmant shouldn't be drunk young – you should be patient and let it age.  But for most of us we drink what is available and sometimes this means what we drink could be so much better!  However, this wine is very exceptional.  Drink it now and you'll love it.  But imagine what it could taste like in five years time?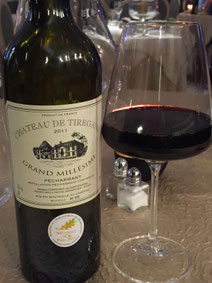 As much as Pécharmant is one of the region's appellation that defines high quality red wine, its specific 'terrior' gives characteristics to the wine which personally are not my favourite.  However, I'm not giving up and I keep trying these wines following recommendations from locals and friends.
And, I have to say that from my point of view, this specific wine stands out above the rest.
Why? Its top of the range from Chateau de Tiregand, only made in the best years – hence Grand Millésime – rewarded with a gold medal and it has the bouquet, complexity and depth worth a grand cru from Bordeaux.
I hadn't visited this Chateau so having enjoyed this wine so much off we went.
You can visit the Chateau for a wine tasting or join them on a guided one hour tour, held in both English and French. Monsieur Xavier de-Saint-Exupery, the owner of the Chateau has such passion, as you'd expect from a vineyard owner, but he's not a typical wine farmer, instead a soft, charming gentleman that is just so happy you enjoy his wine.
Unfortunately, this specific Grand Millésime from 2011 has now ran out and the next year they produced this wine was 2014 - which we are anxiously waiting for it to age a little more before sitting back and enjoying with a wine smile.
Max is Duck & Truffle's wine specialist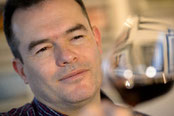 He has more than 25 years experience in Relais & Châteaux and Michelin-starred restaurants across Europe and the Far-East. Thanks to his travelling he is multi-lingual in 5 languages (Italian, English, French, German and Spanish - plus a little Japanese!) and has a passion for food and wine. 
"I've always been surrounded by wine - I grew up on a vineyard in Piedmont, North-West Italy and now live in the heart of the Dordogne surrounded by Bergerac wines. I've had the opportunity to taste and visit some of the best, and also lesser known vineyards of these regions. As well as living in and around vineyards, I've worked in the food and wine industry for over 25 years and passed a sommelier course in Italy.  In 2016, I changed my profession and no longer work in restaurants giving me more time to share my wine passion through Duck & Truffle". 
Read more from Max's wine blog or join him on a wine tour of the Bergerac vineyards.