Max reviews: Atlantic Dry, 2014, Camel Valley from Cornwall.  It's a blend of 60% bacchus, 20% reichensteiner (you may want to research these grapes) and 20% chardonnay.
Sorry I haven't posted for a while but I was in Cornwall for 2 weeks. Although I wasn't looking for wines whilst there, on a visit to a fabulous local farm shop, surprisingly, to me at least, I came across a great range of local wines. Now, Cornwall is not generally well known as a wine production area but Camel Valley Vineyard has been producing award winning wines since 1989, and in 2005 won the International Wine Challenge Gold Medal for their 'Cornwall' sparkling wine.   
Here are my comments on one of their dry white wines. The Atlantic Dry 2014 is a blend of 60% bacchus, 20% reichensteiner (you may want to research these grapes) and 20% chardonnay.
I enjoyed this bottle with a French friend and we both agreed: it has a pale brilliant colour which reflects its cool climate's origin; and whilst the nose wasn't intense it was fresh with nice citrus, white flower and a hint of 'bon-bon anglais' aromas.  The taste matched our expectations from the smell.  It's well balanced, though not complex and the flavour doesn't linger for long. 
Great as an aperitif and matches well with light food.
As I have previously experienced, English wines can surprise you with their high quality and the climate is favourable to give the acidity required for sparkling wines, however, overall we find the price to be high compared to similar wines across Europe.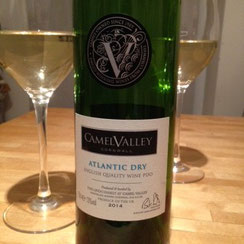 About Max

Max is Duck & Truffle's wine specialist.  He has more than 25 years experience in Relais & Châteaux and Michelin-starred restaurants across Europe and the Far-East. Thanks to his travelling he is multi-lingual in 5 languages (Italian, English, French, German and Spanish - plus a little Japanese!) and has a passion for food and wine. 
"I've always been surrounded by wine - I grew up on a vineyard in Piedmont, North-West Italy and now live in the heart of the Dordogne surrounded by Bergerac wines. I've had the opportunity to taste and visit some of the best, and also lesser known vineyards of these regions. As well as living in and around vineyards, I've worked in the food and wine industry for over 25 years and passed a sommelier course in Italy.  In 2016, I changed my profession and no longer work in restaurants giving me more time to share my wine passion through Duck & Truffle". 
Read more from Max's wine blog or join him on a wine tour of the Bergerac vineyards.