Some of the reviews we received from our latest truffle and wine days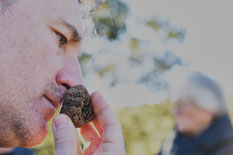 I bought this present for my husband, brother and parents. The present was a great success! They loved the experience. It was easy to book and the communication about the booking was so easy, they couldn't have been more accommodating! They enquired before the day on wine preference etc so that Max could have idea of the best vine yards to go to. But hands down they all felt the best part of the day was the morning truffle hunting and that it is up there in one of the top days they have ever done. I have attached some pictures as they day was just stunning. Being able to be out in the stunning landscape of the Dordogne discussing truffles was my husband and brothers idea of heaven. Thank you Max for being so generous with your incredible knowledge and passion for wine and truffles.
---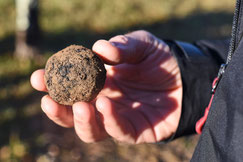 A friend and I booked a truffle hunting adventure and Duck and Truffle team took care of the details: they recommended a charming Bed and Breakfast and secured our dinner reservations at a Michelin starred restaurant Although rainy weather almost derailed our truffle hunt (which would have been awful), we were relieved when Duck and Truffle found an alternative farmer willing to teach us about how truffles grow and where to find them despite the soggy weather. We had a wonderful afternoon searching for the 'black gold' (we found several!) and the following morning we witnessed the local truffle market first hand (serious business). Our guide, Max, was charming, knowledgable, and passionate about sharing his knowledge of local wines. Thank you Duck and Truffle!
---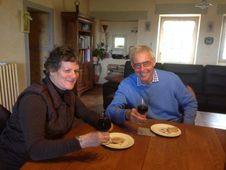 And so to the Truffle Hunt organised by Max of Duck & Truffle. Sebastien's dog Falcao is trained to sniff out truffles growing on the tiny roots of oak trees in Sebastien's truffle woods. When he scratches the ground you go in and unearth the truffle.
We went back to his Uncle's house after finding a set of 'carefully planted truffles' as it's not really the season. We were treated to a wonderful feast of truffles, on breads and in soup. I think he would have opened bottles of wine all night if we'd have let him. A great day
---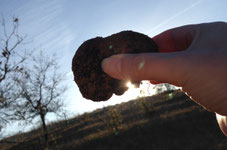 We had a wonderful weekend thanks to the Duck and Truffle team- Max, Simon, Emma and Kate. Wine tasting in local vineyards with an experienced sommelier who was as pleasant as he was knowledgeable. It was like traveling around with your good friend who also knows so much about wine! And Simon drove us to the restaurants they had booked for us based on knowing the area so well. We loved our hotel....Mont d'Onel. And we loved meeting the truffle farmer. As an example of how special Duck & Truffle are, not only did they greet us on arrival at the hotel, but Max went out after his working day to buy me some wine I mentioned that I had enjoyed at a restaurant. The attention to detail and personal service throughout the whole weekend exceeded our expectations and we would recommend this tour to anyone who wants to learn more about the food and wine of Dordogne.
---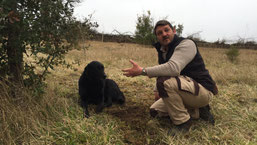 If you are looking for something different to do during the "off season" in this region of France, this is great tour to sign up for. Emma and Max with Duck & Truffle organized the perfect day for us. We paid extra to have Max pick us up at our hotel in Sarlat-la-Canéda, and we were glad we did. We spent some time with truffle farmer Sebastian and his dog hunting truffles and even had the chance to dig one up ourselves. Max was prepared with rain boots and umbrellas for us, which were much appreciated. We got to sample some truffle-laden food before being driven to a location for a gourmet meal which was wonderful. Then, a visit to a family-run winery for a sampling, which was equally divine. Seriously, this was the highlight of our vacation to southern France. Thank you Max & Emma for providing such a great outing!
---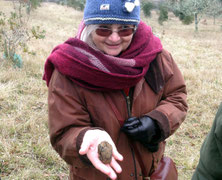 We had a fabulous day out yesterday with Max from the Duck & Truffle. We started with Truffle hunting with Sebastian and his lovely dog Falco. Together they found about 6 truffles and we learnt so much from the experience. It was very cold, but going back to Sebastian's for a truffle treat and a warm up, made it all worthwhile! This was followed by a lovely lunch at a local bistro in Monbazillac. After which we went to a couple of local chateaux for wine tastings. These were very good and Max is very knowledgable on wines which helped a great deal. I must say Richard and I both said it was one of the best days out we've had for a long time. We would certainly recommend it to anyone especially if you like truffles, food, wine and the beautiful Dordogne countryside, even in cold conditions it has a certain charm, as does Max who is an excellent guide for the day. Thank you very much Duck & Truffle xx.
---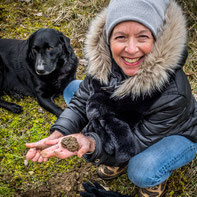 We spent the day with Duck & Truffle doing the tour of the truffle market in Sainte-Alvère and then actually going with a guide to actually hunt for truffles with the guides dog. The day's adventure was an outstanding success and our friends from Burgundy absolutely loved the adventure. The staff at Duck & Truffle are most accommodating and Max who was out leader for the day is extremely friendly and knowledgable. We strongly recommend this tour adventure with Duck & Truffle.
---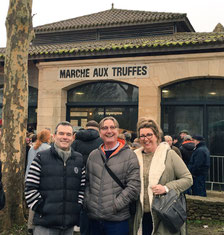 Having returned from our trip on Tuesday, we have now had a chance to collect our thoughts and review this fantastic experience. The entire team of Emma, Katie, Max and Simon made this trip one that has given us some wonderful memories, from our first evening's meal together, through our day wine tasting with Max and the truffle day - market in the morning and truffling with farmer Sebastian and Falco the truffle hound in the afternoon. Multi-lingual Max, translated throughout and the enthusiasm of the wine-makers - and Sebastian - was not lost in translation. We really feel that we have made friends and hope we can share some time with them on our next visit to Tremolat. We chose the Vieux Logis as our accommodation and cannot praise the staff highly enough, we were always greeted warmly and our room was beautiful with a lovely view over the winter garden. We ate at the hotel restaurant on our last evening and that put the seal on a fantastic short break in Dordogne, one that we 100% recommend without reservation.