Why is the Perigord black truffle called a black diamond and what does it taste like?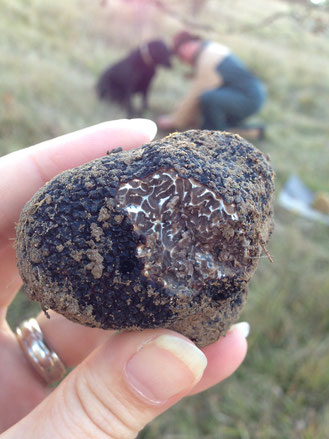 It's the shape on the outside of the Perigord black truffle that gives it its famous Black Diamond name.
Join us as we go truffle hunting, truffle tasting and wine tasting - all in one day in the heart of the Dordogne. 
Truffle & Wine Tours
In the morning we join local truffle hunting expert Sebastien and his dog Falco and go in search of the famous Perigord Black Truffle. You'll learn about the different types of truffles, techniques of truffle hunting and enjoy a fabulous truffle tasting.
We then move to Bergerac for a fabulous lunch at La Tour des Vents, a gastronomic restaurant in the heart of the Monbazillac vineyards with exceptional views. 
After lunch we visit two vineyards where you'll experience everything from the luminous Bergerac Sec to creamy Monbazillac via Pécharmant, a full bodied red.
About your truffle and wine day
Only available during truffle season - December through February. Our tours run Monday to Friday from 10.00 - 18.00 and can accommodate groups of up to four people. 
Max will collect you from your accommodation and throughout the day he will be your translator sharing his local knowledge about Bergerac wines, the different terroirs and the rich history of the vines.  
Our price for up to 4 people (total price) including a truffle degustation is €340, excluding lunch.
There is a small additional cost for pick-up outside of a 10km radius of Tremolat.
The set menu lunch cost is approximately €45 per person.
Please book as far in advance as possible not to be disappointed. 
What next?