You've been having so much fun on our day wine tours that we've created wine tasting weekends - perfect for those that want to know that little bit more about Bergerac wines and grab a bargain by visiting the Dordogne when everyone else isn't!.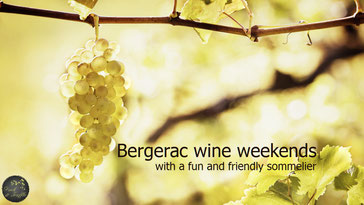 Max, Duck & Truffle's multi-lingual  sommelier guides you around the wine appellations of Bergerac.
The Dordogne is known to millions of visitors each year for its history, natural beauty and gastronomy, but did you know that the Bergerac region is also home to over 12,000 hectares of vines, 13 AOC (appellations) and more than 900 wine-growers? Read more about the Bergerac wine appellations
Sometimes overshadowed by their world famous neighbours in Bordeaux, Bergerac vineyards offer great value wines of a similar quality.
During a wine weekend we spend one day focused in the North of Bergerac and one day in the South.
In the North we focus the morning in Pecharmant, which is to the north-east of Bergerac and from which comes some of the most full bodied reds with aging potential. We then move west to Rosette which is just north of Bergerac and known for its slightly sweet, fresh and floral white wine. After lunch we explor the most western wine area, Montravel, home to four of the 13 AOC's of Bergerac. The 'terroir' here is similar to St. Emilion and the high content of limestone in the soil produces vibrant and mineral tasting white wines. 
In the South we focus the morning in Saussignac. Of the 13 AOC's this is the smallest and produces one third of all of the bio wines in Bergerac.  After visiting one, possibly two vineyards we take a short drive to Monbazillac for lunch at La Tour des Vents. This restaurant has stunning views over the Monbazillac vineyards and whilst it is Michelin-starred it is in a very relax setting.  After lunch we visit a vineyard in Monbazillac and then stop to admire the world famous Chateau.
In Summary: on average each tasting will include 5 wines and we aim to visit 3 vineyards a day so during your wine weekend you will sample 30 Bergerac wines. We have carefully selected these vineyards based on our own experience of tasting and visiting them.  All vineyards are small family run and offer great value wines. We do not focus on the larger commercialized vineyards.
What next:
Email Emma at duckandtruffle24@gmail.com to discuss availability and prices.