Gastronomic weekend in the Dordogne from mid-October through mid-April
Grab a bargain and travel to the Dordogne, South West France, when everyone else isn't!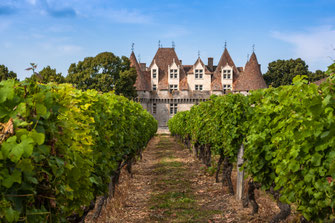 A really interactive few days, with wine tasting, delicious food and vineyard visits – all accompanied by a professional sommelier.  Plus, lots of precious time to unwind and enjoy the beautiful Dordogne valley. Each weekend is 100% tailored for you and every itinerary based upon first-hand experience.
What's included in your weekend?
3 nights Bed & Breakfast based on two people sharing
3 mouth watering meals ranging from the gourmet delights of a Michelin-starred restaurant to a feast of classic local specialties at a Ferme Auberge 
Professional wine tour of the Bergerac vineyards, accompanied by Max, Duck & Truffle's multi-lingual professional sommelier 
Driver and transport throughout the weekend and pick-up to/from local airport or train station
What next?
Our gourmet weekend price starts from €695.  See below a sample itinerary and our accommodation options. Interested?  Contact us, for more information.
About us
Our tours aren't like 'normal' tours. We live here and love this region and we share with you our passion for local food and wine in the Dordogne, visiting some of our favourite vineyards and restaurants led by Max, who is a long standing local resident with a wealth of knowledge and passion for local gastronomy and history. Tours are customised for small groups and personalised to meet individual desires.
Just for you
If there's something about one of our tours that doesn't quite fit your interests or preferred timing, contact us to discuss a Duck & Truffle gourmet experience uniquely designed to your specification.