Gastronomic weekend in the Dordogne from mid-October through mid-April
France is a food lovers' paradise so where better to spend an early Valentines weekend than in the beautiful Dordogne in South West France.
Your weekend is centred around the picturesque village of Trémolat, only 35 minutes from Bergerac airport. Recently voted one of France's 20 Best Kept Secrets,  Trémolat's 'piéce de resistance' is Le Vieux Logis, a boutique Relais & Châteaux with a Michelin-starred restaurant; your base for the duration of your stay.
Steeped in charm and elegance, this 4-star family house is located on an estate that was previously dedicated to tobacco production. With its manor house, the former farm building, the outbuildings, and the gastronomic restaurant in the former tobacco drying house, Le Vieux Logis provides havens of tranquility where relaxation is just a way of life.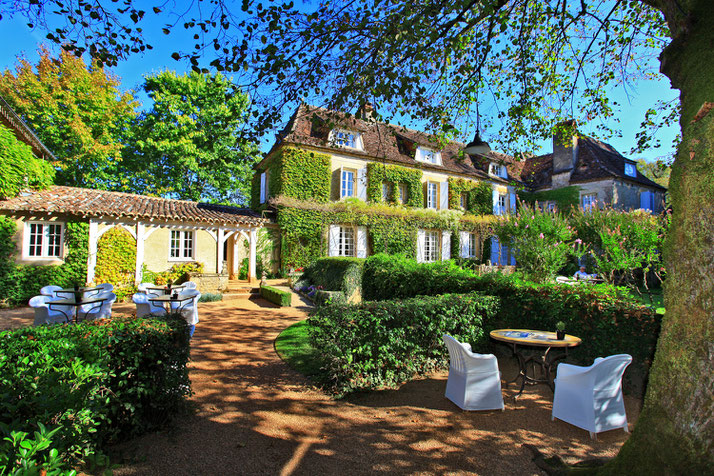 During the day, Duck & Truffle takes you on a food and wine guided tour of the Dordogne including truffle hunting and wine tasting accompanied by Max, Duck & Truffle's multi-lingual professional sommelier. And in the evenings we organise dinners for you at local restaurants plus dinner on the last night in the Michelin-starred restaurant at your accommodation.
What's included:
3 nights B&B based on two people sharing at the beautiful Relais & Châteaux, Le Vieux Logis in Tremolat;
3 mouth watering dinners ranging from the gourmet delights of a Michelin-starred restaurant to a feast of classic specialties at a Ferme Auberge;
Professional wine dégustation at a local cave à Vin and wine tour of the Bergerac vineyards, accompanied by Max; and
Driver and transport throughout the weekend and pick-up to/from local airport or train station
All of this for €895 per person.
Our tours aren't like 'normal' tours. We live here and love this region and we share with you our passion for local food and wine in the Dordogne, visiting some of our favourite vineyards and restaurants led by Max, who is a long standing local resident with a wealth of knowledge and passion for local gastronomy and history. Tours are customised for small groups and personalised to meet individual desires.
Just for you
If there's something about one of our tours that doesn't quite fit your interests or preferred timing, contact us to discuss a Duck & Truffle gourmet experience uniquely designed to your specification.
Sample itinerary
Based on Ryanair flights from London Stansted to Bergerac
Saturday
As your morning began with an early flight, we move straight to your accommodation to check in and relax before a light lunch.
We spend the afternoon with a local truffle farmer who explains all about the Perigord Black Truffles and shows how his passionate dogs hunt for truffles.
On the way back to your accommodation we visit Julien de Sauvignac, a Cave à Vin in Le Bugue, for wine tasting. It's a great opportunity to sample many of the wines this region has to offer and make new discoveries. 
Dinner is a feast of classic Périgord specialities at a traditional Auberge à la Ferme in the hills above Trémolat, renowned for its local home grown produce. 
Sunday
Today we focus on the Vezere Valley, the pre-historic area in the Dordogne. After breakfast we head towards Roque St Christophe - a cliff overlooking the Vezere valley which is the remains of a troglodyte town, the largest of its type in Europe. A short drive continuing along the banks of the Vezere takes us to lunch at the pretty little town of St Leon sur Vezere.
Our drive back through the Vezere valley takes us to Font de Gaume, a pre-historic cave near the town of Les Eyzies de Tayac.
Your table for 2 dinner is at Le Bistro de la Place, back in Trémolat where you can enjoy amazing food combinations and local wines in the comfort of this rustic bistro.
Monday
We spend the day in the Bergerac vineyards visiting 4 wineries experiencing everything from the luminous Bergerac Sec to creamy Monbazillac via Pécharmant, a full bodied red.
Tonight's dinner is at the Le Vieux Logis where chef Vincent Arnould and his team will prepare a gastronomic Michelin-starred dinner, fitting for your final evening in the Dordogne. Each of the six courses is accompanied by a wine selected by the sommelier.
Tuesday
Before your afternoon flight, spend the morning in the beautiful medieval town of Bergerac with its winding narrow lanes and wonderful architecture or simply relax in one of the hotels lounges next to the fireside with a good book.