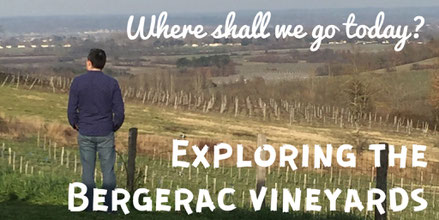 Our full day wine tours provide an introduction to the spectacular wines of Bergerac, visiting 3 vineyards.
Our tours run Wednesday to Friday from 10.00 - 18.00 and you can enjoy a fabulous lunch at La Tour des Vents, a Michelin-starred gastronomic restaurant in the heart of the Monbazillac vineyards with exceptional views.
We collect you from your accommodation (there is a small additional cost for pick-up outside of a 10km radius from Tremolat) and, whilst travelling between vineyards, we share our local knowledge and explain about the different terroirs and the rich history of the vines providing some key facts before you taste the wines.
During the day you'll visit 3 vineyards with an average of 5 tastings at each - that's 15 wines you can discover!  We stop for lunch so you can enjoy the gourmet delights at La Tour des Vents with its stunning views over the Monbazillac vineyards and Bergerac town.
About Max:
He has more than 25 years experience in Relais & Châteaux and Michelin-starred restaurants across Europe and the Far-East. Thanks to his travelling he is multi-lingual in 5 languages and has a passion for food and wine.
"I've always been surrounded by wine - I grew up on a vineyard in Piedmont, North-West Italy and now live in the heart of the Dordogne surrounded by Bergerac wines. I've had the opportunity to taste and visit some of the best, and also lesser known vineyards of these regions. As well as living in and around vineyards, I've worked in the food and wine industry for over 25 years and passed a sommelier course in Italy.  In 2016, I changed my profession and no longer work in restaurants giving me more time to share my wine passion through Duck & Truffle".